 14th Amendment Highway
The 14th Amendment Highway study was conducted by a team of consultants led by Cambridge Systematics, Inc. for the Federal Highway Administration (FHWA), and was submitted to Congress pursuant to Section 1927 of the federal transportation authorization legislation known as SAFETEA-LU. This study is one of two companion studies authorized by SAFETEA-LU legislation. The studies focused on highway corridors originating in Georgia, and include the 14th Amendment Highway and the 3rd Infantry Division Highway.
The 14th Amendment Highway was proposed to extend from Augusta, Georgia to Natchez, Mississippi, servicing intermediate cities of Macon and Columbus, Georgia, and Montgomery, Alabama. A portion of the highway corridor in Georgia was designated as a Congressional High Priority Corridor (HPC-6) under Section 1105 (c) of the Intermodal Surface Transportation and Efficiency Act (ISTEA) of 1991. The segment from Columbus to Macon was previously studied by the Georgia Department of Transportation (GDOT) as part of the Governor's Roadway Improvement Program (GRIP).
The first stage of this study focused on preliminary data collection, identification of potential highway segments, alternative alignments and conceptual engineering designs for each segment, estimates of construction costs, and recommendations for additional planning studies to be conducted in an optional phase II as directed by FHWA.
Project work focused on data collection, initial outreach activities, and definition of project control points in each of the key service and terminus cities. Engineering design work took place in the fall of 2010, and was followed by cost estimation work, and recommendations for further planning studies in the spring of 2011. The project was completed in June, 2011 and its findings were submitted to Congress.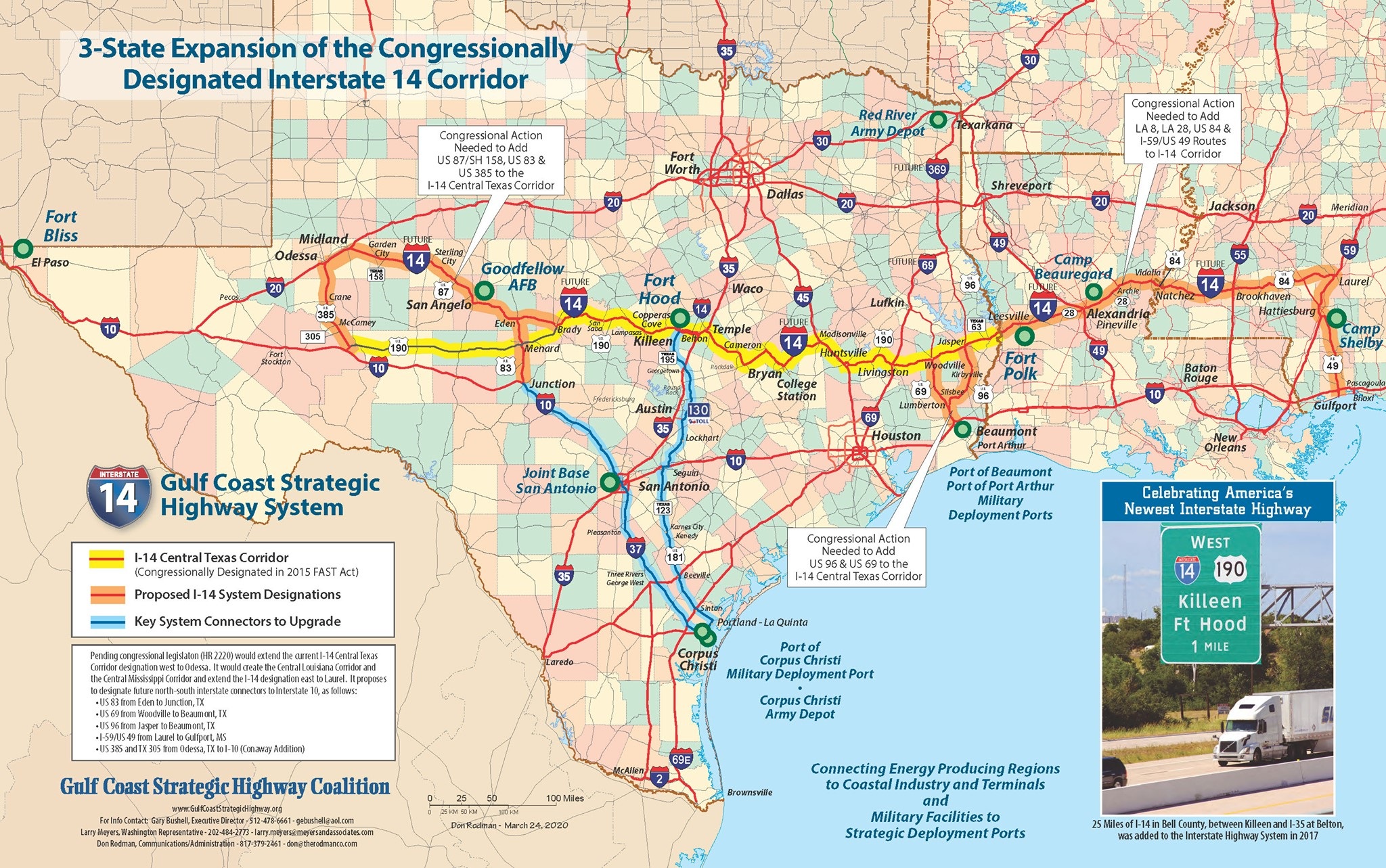 I-14
I-14 was first proposed in the 2005 MAP-21 Act under the title "The 14th Amendment Highway" envisioned to extend from Augusta Georgia to Natchez Mississippi. A feasibility study was completed and came to the conclusion that projected traffic need was low for this particular route. Support in state transportation departments in Georgia and Alabama never really formulated. Mississippi and Louisiana were more receptive especially after Texas took the initiative to create the Central Texas Corridor.
In 2018, a new bill (H.R. 6111) was introduced into the U.S. House of Representatives to extend the Future I-14 Central Texas corridor created by Congress in 2015 FAST Act through Louisiana and Mississippi, but did not receive a full vote.
In 2021, the new infrastructure bill approved by the House of Representatives "INVEST in America Act" included the entire I-14 Gulf Coast Strategic Highway route from Texas to Georgia.