 14th Amendment Highway
The 14th Amendment Highway study was conducted by a team of consultants led by Cambridge Systematics, Inc. for the Federal Highway Administration (FHWA), and was submitted to Congress pursuant to Section 1927 of the federal transportation authorization legislation known as SAFETEA-LU. This study is one of two companion studies authorized by SAFETEA-LU legislation. The studies focused on highway corridors originating in Georgia, and include the 14th Amendment Highway and the 3rd Infantry Division Highway.
The 14th Amendment Highway was proposed to extend from Augusta, Georgia to Natchez, Mississippi, servicing intermediate cities of Macon and Columbus, Georgia, and Montgomery, Alabama. A portion of the highway corridor in Georgia was designated as a Congressional High Priority Corridor (HPC-6) under Section 1105 (c) of the Intermodal Surface Transportation and Efficiency Act (ISTEA) of 1991. The segment from Columbus to Macon was previously studied by the Georgia Department of Transportation (GDOT) as part of the Governor's Roadway Improvement Program (GRIP).
The first stage of this study focused on preliminary data collection, identification of potential highway segments, alternative alignments and conceptual engineering designs for each segment, estimates of construction costs, and recommendations for additional planning studies to be conducted in an optional phase II as directed by FHWA.
Project work focused on data collection, initial outreach activities, and definition of project control points in each of the key service and terminus cities. Engineering design work took place in the fall of 2010, and was followed by cost estimation work, and recommendations for further planning studies in the spring of 2011. The project was completed in June, 2011 and its findings were submitted to Congress.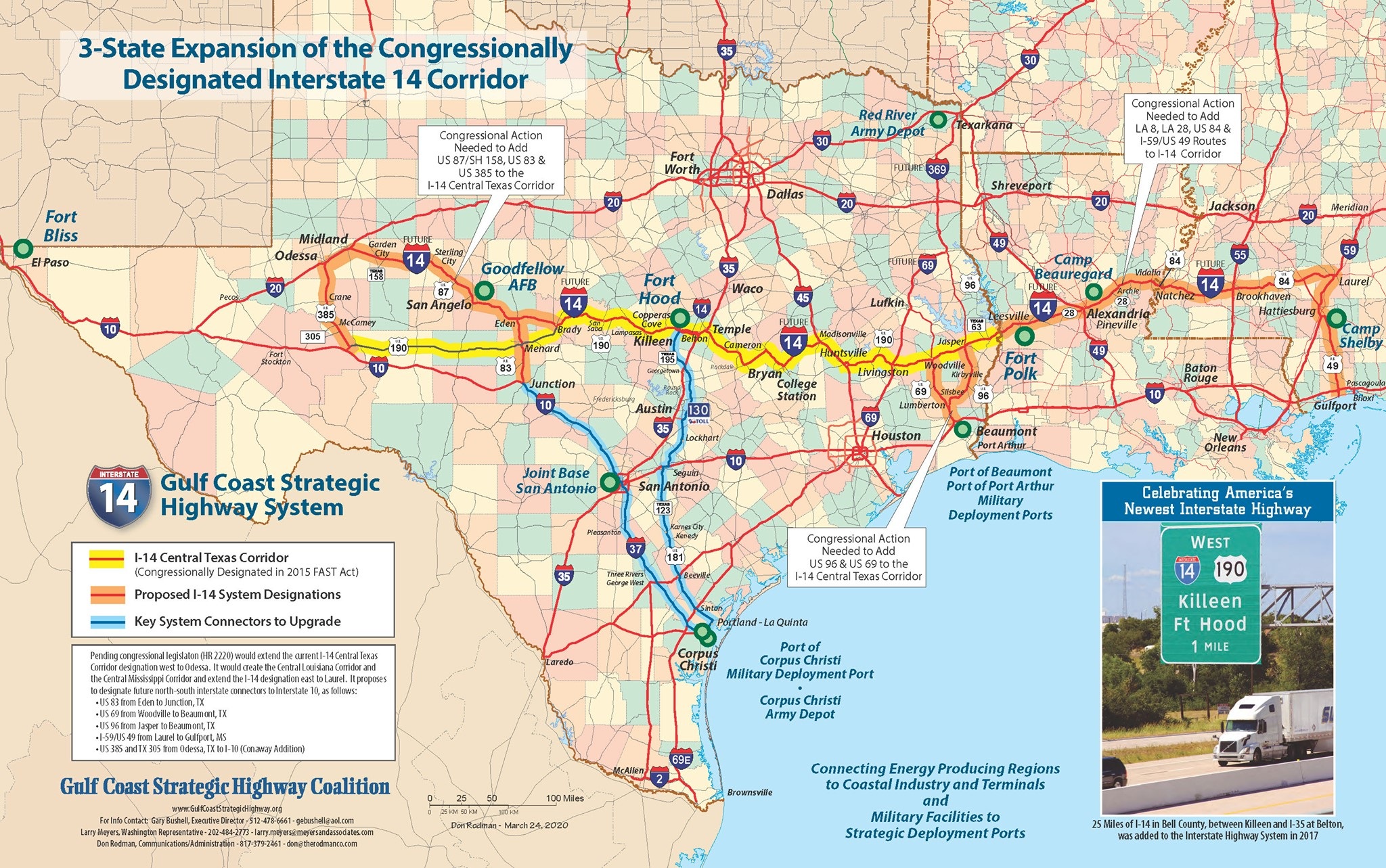 Gulf Coast Strategic Highway
The I-14 Central Texas Corridor, authorized in 2015, runs from West Texas to the Texas-Louisiana border generally following US 190. The first 25-mile section of I-14 from Killeen and Fort Hood to I-35 at Belton was added to the Interstate Highway System in 2017.
The Central Texas Corridor may be expanded to the west to San Angelo, Goodfellow Air Force Base. The I-14 North branch may extend to Midland-Odessa to Interstate 20. The I-14 South branch runs westward to join I-10. Including Fort Bliss, I-14 links six military facilities across three states.
Spur routes in Texas would extend southward to provide better access to the strategic military seaports at Beaumont, Port Arthur and Corpus Christi. This will enhance military readiness and efficiency as envisioned by President Dwight D. Eisenhower when he first commissioned America's interstate highway system in 1956. The Permian Basin Spur would follow US 385 from I-20 at Odessa south to I-10. A second spur would follow US 83 and connect I-14 to I-10 at Junction. Two more spurs would connect I-14 to I-10 at Beaumont, one on US 69 south from Woodville and the second on US 96 south from Jasper.
This legislation builds upon the original designation, introduced by Rep. Brian Babin as part of the 2015 FAST Act highway bill, and does not eliminate any currently authorized routes. It also authorizes the new interstate route using the general pattern of existing roads and highways, but leaves the final determination about the exact path of the route with state officials and local communities.
New legislation has been proposed to create the Central Louisiana Corridor extending the I-14 corridor eastward following highways LA 8, LA 28 and US 84 in Louisiana through Leesville, Fort Polk, Alexandria, Pineville and Vidalia where it would cross the Mississippi River.
The Central Mississippi Corridor follows US 84 eastward from Natchez to Brookhaven and then to Laurel where it would terminate at Interstate 59. It includes a north-south interstate spur reaching south from Laurel to Gulfport generally following US 49 and passing near the gate at the Army's Camp Shelby. The Mississippi Transportation Commission has approved a resolution supporting the Future I-14 designation pointing to the potential for economic growth in south Mississippi.