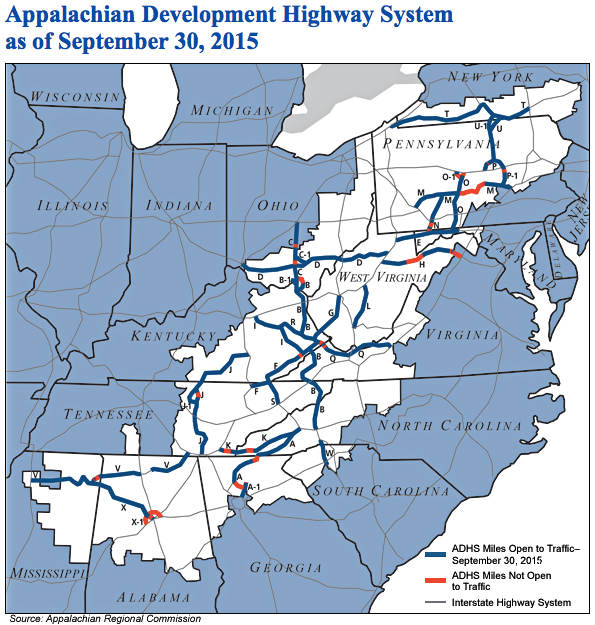 Appalachian Development Highway System
In 1965, the Appalachian Regional Development Act called for the construction of 23 four-lane highways throughout Appalachia. Six of those corridors pass through West Virginia, and five of those have already been completed – Corridor D, which follows U.S. 50 from Cincinnati to I-79 in Bridgeport; Corridor E, which is now Interstate 68 from Morgantown to Hancock, Md.; Corridor G, which is U.S. 119 from Charleston to Pikeville, Ky.; Corridor L, which is U.S. 19 from Beckley to Sutton; and Corridor Q, which runs from Christiansburg, Va., to Pikeville, Ky., by following Routes 52, 19 and 480 through southern West Virginia.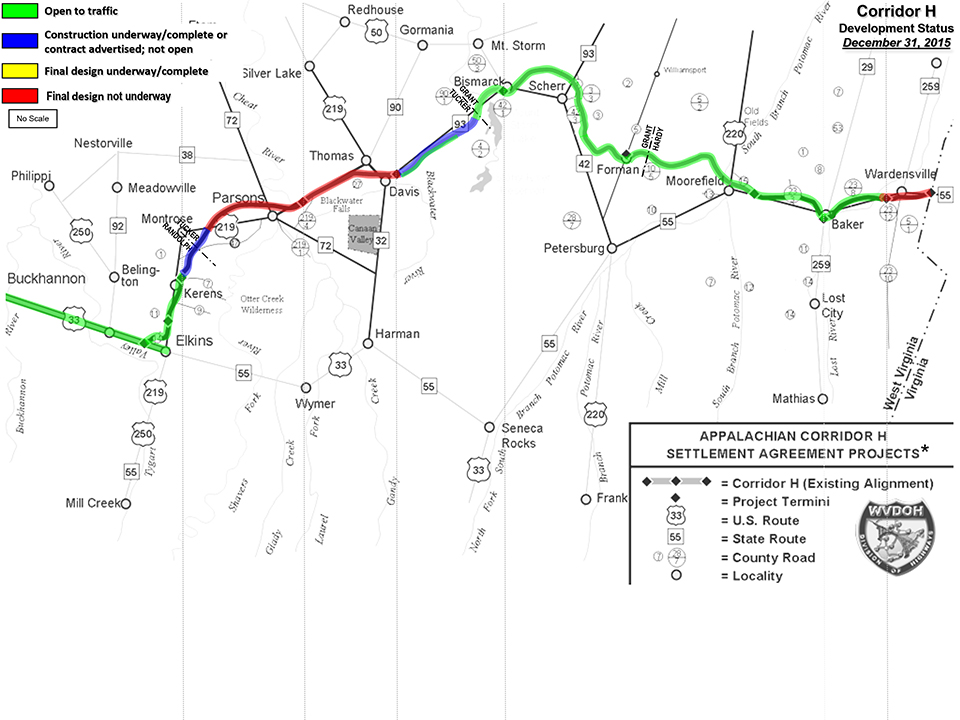 US 48 Corridor H
Corridor H was initially intended to connect I-79 in Weston to I-81 near Strasburg, Va. Construction began in 1974 near Weston, and engineers had proposed two routes. The road would follow U.S. 33 to Seneca Rock and then either cross the Shenandoah Mountains to New Market, Va., or follow Route 55 to Moorefield and then into Virginia. Environmental and historical groups became concerned in the 1980's, saying the area around Shavers Fork needed protection from the construction and that the designers ignored the impact the highway could have on historical Civil War sites in Corricks Ford and Mooresville. A federal lawsuit was filed in 1995, but the U.S. District Court ruled in favor of the state. A second lawsuit was filed in 1998, but was dismissed a year later.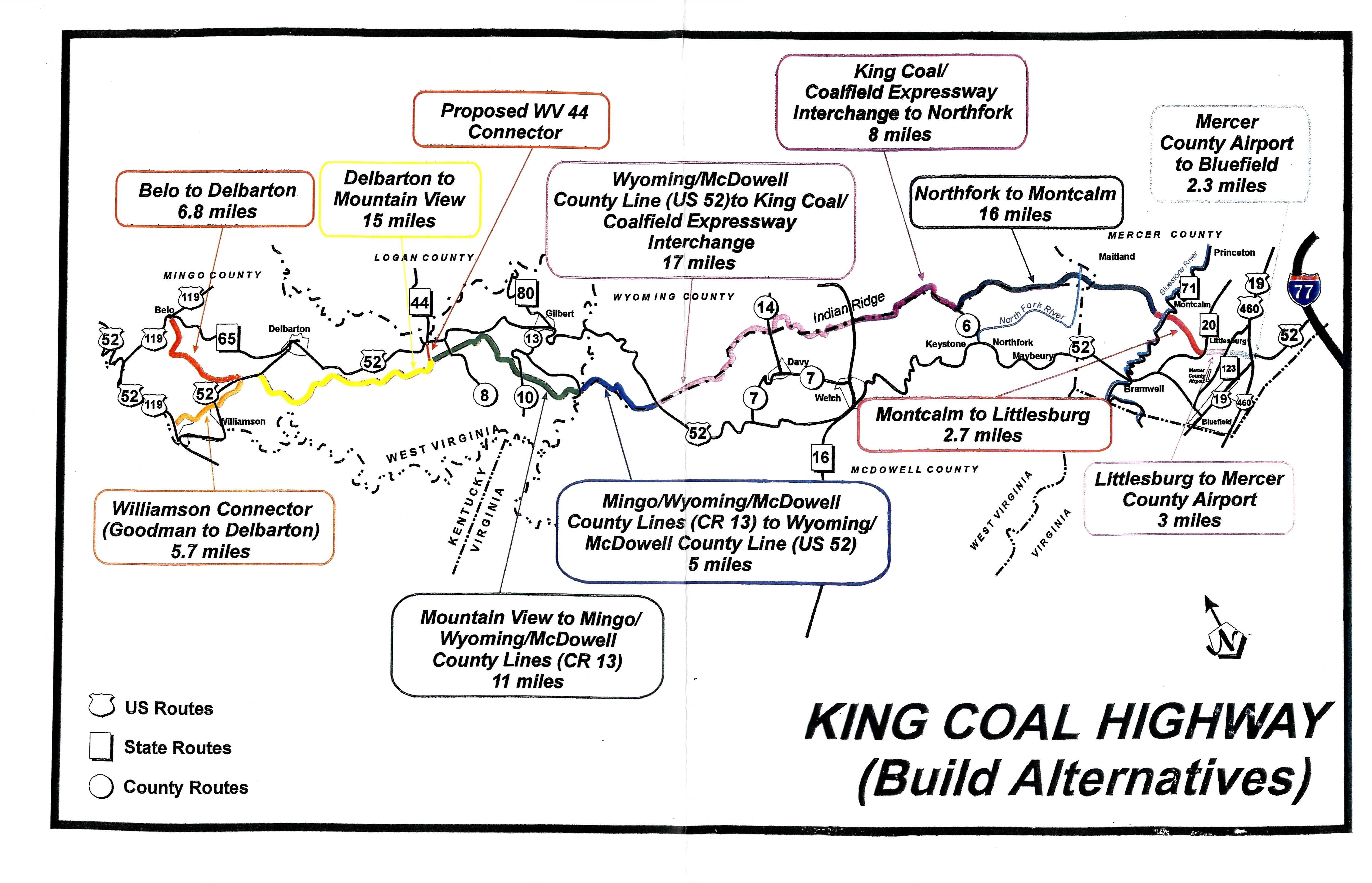 US 52 King Coal Highway
The King Coal Highway Authority was established by the West Virginia Legislature in March of 1999 to promote and advance the construction of a four-lane divided highway that will become the new routing for US 52 through McDowell, Mercer, Mingo, Wyoming and Wayne counties replacing the existing US Route 52. The Authority coordinates with counties, municipalities, state and federal agencies, public nonprofit corporations, private corporations, associations, partnerships and individuals for the purpose of planning, assisting and establishing recreational, tourism, industrial, economic and community development of the King Coal Highway for the benefit of West Virginians.
The West Virginia Division of Highways (WVDOH) plans to build the highway from a point near Williamson – at the intersection of WV 65 and US 119 – to Interstate 77 at its US 52 interchange in the Bluefield area (see map). After evaluating six alternative routes for the highway and considering public comments from a May 1998 public information workshop, WVDOH selected a Preferred Alternative. By the year 2020, engineers estimate the new highway would cut travel time on the existing US 52 to almost in half.
The Preferred Alternative plan also includes a 4-lane connector, nearly five miles long, to improve access into Williamson. The connector would also provide access to the Mingo County Airport. The Preferred Alternative was chosen on the basis of its ability to meet the needs of the project while minimizing impact on the natural, physical and social environments. This selected route avoids the greatest number of archaeological resources and has the least impact on businesses and residences. This Preferred Alternative, however, remains "preliminary" until the completion of the entire public involvement process.
The King Coal Highway will be a four-lane divided highway with partially controlled access between Williamson and Bluefield. It ultimately will cover approximately 90 miles of mountainous southern West Virginia, opening it up to faster, safer transportation. The route was designated as a High Priority Corridor in the National Highway System in the Intermodal Surface Transportation Efficiency Act of 1991. The corridor was actually designated as Future Interstate 73 and Interstate 74 Corridor and still is today. Since then, Michigan widthdrew its support for I-73 and Ohio widthdrew its support of both I-73 and I-74. North Carolina proceeded to build its sections of both I-73 and I-74 and South Carolina still plans to complete their part if funding exist. Virginia was supporting I-73 but its future is now a low priority, and since West Virginia based its support or I-73 on Virginia completing its section and Ohio on completing its part of I-74, the construction of I-73/I-74 using the King Coal and TOLSIA Highways is on indefinite hold.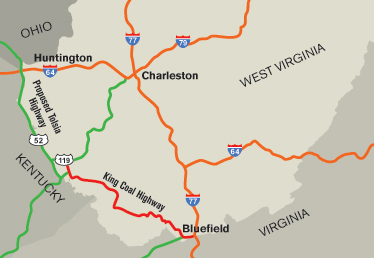 US 52 TOLSIA Highway
The TOLSIA Highway is the portion of U.S. 52 in southern West Virginia that runs between Kenova in Wayne County and Williamson in Mingo County. The acronym is taken from the "Tug-Ohio-Levisa-Sandy Improvement Association", a group of local business people and community leaders who successfully lobbied in the 1950s and 1960s to have a new roadway constructed along the Big Sandy River. After the new road was built, the U.S. 52 designation which previously had applied to the road connecting Huntington and Crum was moved to the new road. The old road was renumbered as U.S. 152. State and federal officials pressed ahead with plans for upgrading it from a two-lane roadway to a four-lane divided highway. The new, upgraded road will be built in three sections, the first from Kenova to Fort Gay, the second from Fort Gay to Crum, and the third from Crum to Kermit. Construction on the upgrade, estimated to cost more than $800 million, began in 1996 and was expected to take a decade or longer to complete.